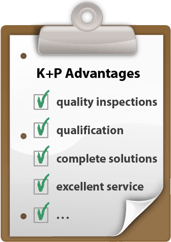 The core competency of K+P is in the sector of the industrial image processing. Without the use of camera-supported quality control systems daily millions of products would be rejected or many products were delivered to the customer, which does not correspond to the requirements or the demands of the manufacturer.
Here are some reasons, why you should use quality inspection systems from Krempien+Petersen:
We can offer you a solution for your entire quality control process (including a detailed documentation).
K+P offers finished solutions, which can be integrated without large expenditure into new or existing production machines.
Individual hard- and software solutions are developed from our team of engineers after your defaults, so that special products can also be submitted to a quality inspection at any time.
We work after all presently recognized guidelines and recommendations such as GAMP5, GMP, 21 CFR part 11.
By our experiences of many years and outstanding knowledge in the field of the qualification we have the possibility to accomplish all stages of a qualification.
All systems are provided after the newest realizations and are easily understandable to install and simply serve rapidly.
We offer networked systems, with which the time for a format and/or a product change can be minimized.
Robust camera systems of K+P allow the use of the system even in harsh environments such as in the automotive and food industries.
We are using products of Cognex (world leader in industrial image processing).
Thanks to our long experience we have the possibility to improve the quality of your products.
With increased quality, you enhance the image of your company and the competitiveness of your products.
Through the use of intelligent and robust image processing tools a constant adjustment of the cameras is not necessary.
A fast support by Krempien+Petersen or one of our partners minimizes downtimes in your production.
A person can become tired during a repetitive inspection task, but this is not the case with a quality control system, so that the same quality can be always guaranteed.