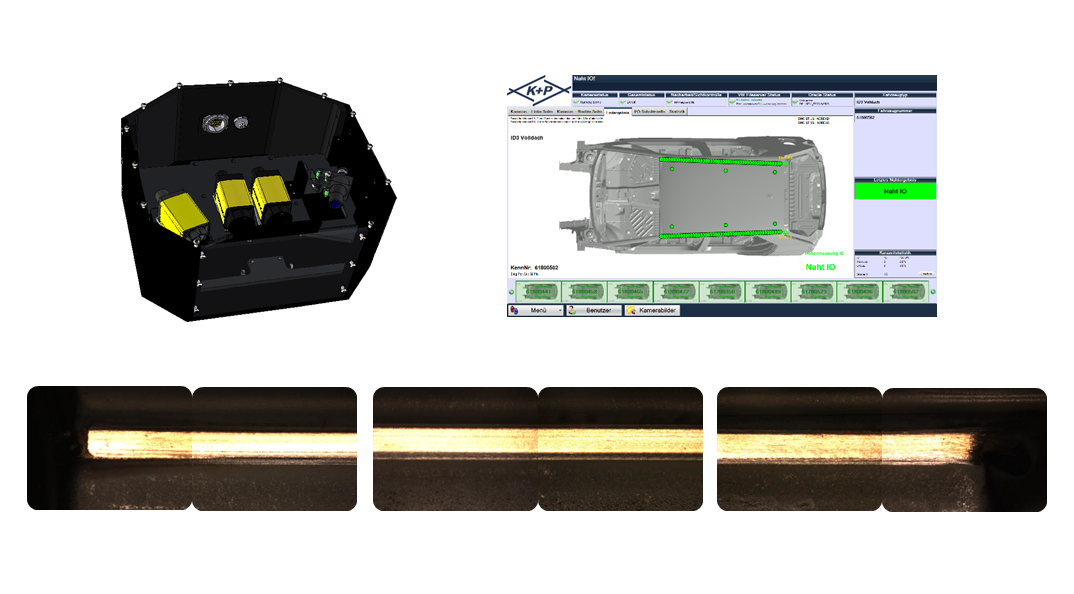 The LaserSeamInspection system (LSI system) has been developed by K+P for the inspection of laser soldered seams and CMT Braze+ seams. The system components include a stationary IPC, on which K+P's own standard software KUPvision is installed, and one or more LSI sensor heads. The sensor heads are modular and can be equipped with up to 3 cameras and laser modules. 3D triangulation methods are used to determine the height information of the seam or of the roof/side parts.
In order to carry out the roof seam or sealing channel seam inspection, there are various criteria for evaluating the quality of these welding joints. Our LSI system was developed with the aim of carrying out this inspection reliably, quickly and inexpensively using various parameters freely selectable by the user. By using our almost non-destructive camera system on a robot, with or without grinding head, it is possible to inspect all seam geometries (convex/concave) and seam positions (roof/sealing channel) with different requirements (cycle time/accuracy).
Why LSI system from K+P?
Proven technology - robust hardware, standardized and very easy to use software KUPvision
2D/3D technology - reliable detection, measurement and recognition of defects
Extraneous light - absolutely independent of extraneous light influences
Interfaces - ProfiNet, Interbus, Oracle, FISeQS, FuQS, XML etc.
Complete solutions - projects from one hand from the beginning to the system handover (turn key)
Service - fast reaction times with good on-site support
How it works?
The inspection system receives the vehicle type to be inspected and the part number via the process bus (e.g. ProfiNet or Interbus) and acknowledges the data to the overoperating control (PLC). If the data is identical and all system components are ready, the start signal is given. The laser seam is inspected and images are evaluated. At the end, after the robot completion message(s), the inspection system transmits one of the three possible end results: seam OK, seam Warning or seam QStop to the PLC.
At the same time, an overview screen with the final result is generated and displayed on the PC monitor or on the second large screen at the rework station. Thus, all defects and the stored images are clearly displayed to the operator. This avoids a tedious manual search for defects. In addition, all recorded camera images can be archived on a file server specific to the vehicle number.
The system is already being used successfully by various automobile manufacturers and is a powerful tool for quality assurance.
Some statements from our customers:
"This enables a 0 % error slip to be achieved before delivery to the paint shop"
"Projected, the use of a laser seam inspection system with an effective quality control circuit reduces rework by 3042.62 hours per year."
"... low purchasing costs ... "
Schematic system designs:
The main inspection software KUPvision as standard user interface at all plants: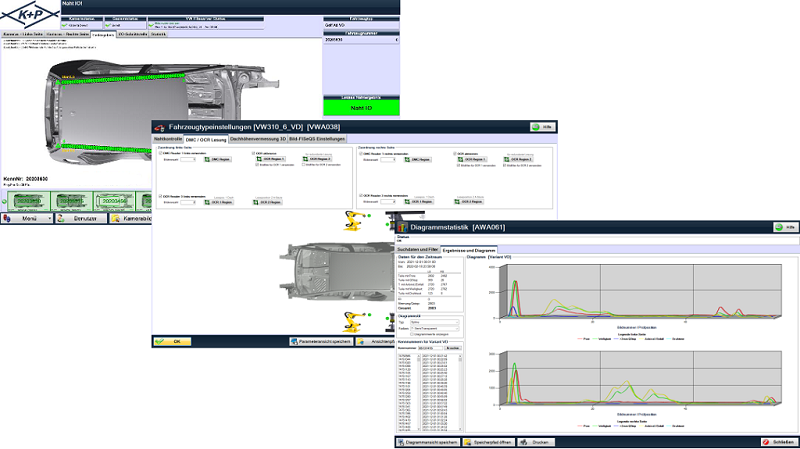 Sensor heads and technical data:
The following images show some examples of roof seam inspection:
Roof seam NOK example images with seam incline and demolition:
The following images show some examples of sealing channel seam inspection:
Sealing channel seam NOK sample images with faulty wire feed: